Apple Can't Out Run Currency Headwinds
Besides the fact that Apple (AAPL) is an incredibly cheap stock as highlighted in my previous post, the tech giant is finally succumbing to the currency headwinds. Sometimes extraordinary growth cycles can over come such obstacles, but the reality is that even the great companies fall prey to market forces. 
For the December quarter, Apple detailed that revenues took a nearly $5 billion hit from lower currencies around the globe. The most notable impact came from Europe where reported revenues were $17.9 billion though the number would've been $20.2 billion if not for the rising dollar. Europe actually grew 18% on a constant currency basis.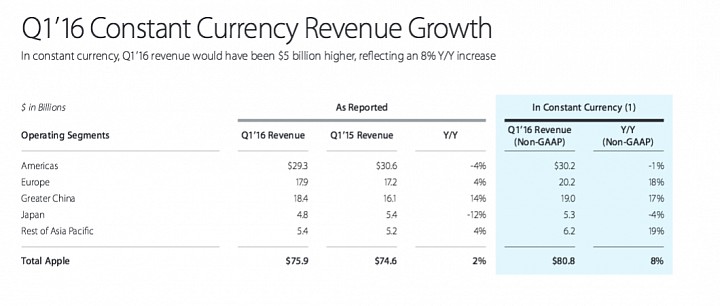 Of course, currency headwinds on the revenue side tend to provide tailwinds for margins and net income. To this fact, Apple reported a very solid 40.1% gross margin, up from the 39.9% reported last December quarter.
All in all, before getting too negative on the weak revenue guidance for FQ2 keep in mind the big currency impact.
Disclosure: Long AAPL