Automotive Semiconductor Growth Not So Impressive
A big reason for the Qualcomm (QCOM) acquisition of NXP Semi (NXPI) and the surging stock price of Nvidia (NVDA) in 2016 is the potential growth in semi content for autonomous driving. NXP Semi has only forecasted 4-6% growth in the total addressable market for semis in autos, but the ADAS (advanced driver assistance systems) are expected to surge from $0.8B in 2015 to $3.5B in 2025. An estimate is that a Level 2 car will have $100 of semi content with a Level 4 having up to $500. The amount clearly surges as the ADAS Level rises, but one needs to keep in mind that the total content in a car is far less than the price of a premium smartphone like an iPhone. 
Considering Nvidia gained about $45 billion in market value during 2016, the upside potential in the market was more then captured in those stock gains alone. Wells Fargo worked up the below chart with the different market share by chip companies. Smaller players like STMicroelectronics (STMI) and ON Semi (ON) already trade at 52-week highs as well suggesting the market has already baked in most of the upside from the growth potential of a market that is relatively small all the way out to 2025 compared to the general tech world.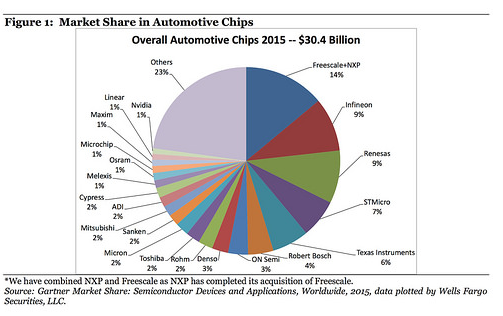 Disclosure: Long QCOM