Ocean Rig: Sentiment Was Wrong Again
One way to gauge whether investors are all piling in on one side of a stock are sentiment measures. Several general measures exist for individual stocks including analyst opinions and trading volumes, but neither measure the general sentiment of individual investors.
One new sentiment measure of mild interest to me is the StockTwits calculation. StockTwits calculates the percentage breakdown based on the bullish and bearish sentiment shared on the site over a rolling, 7 day basis. The measure is a extremely short term indication, but it could be useful to see how investors feel prior to earnings or at potential pivot points for a stock. 
As highlighted earlier in the week. the very bearish indication on Yelp (YELP) was part of the reason for staying long on the consumer review site after a big rally. The company blew away Q2 numbers while the StockTwits sentiment was 75% bearish. 
Ocean Rig (ORIG) provides a prime example of where the market was far too bullish. As the chart shows, the average poster on StockTwits was very bullish on the stock prior to the earnings release. In fact, the bullish ratio sat at an incredible 96% to start August.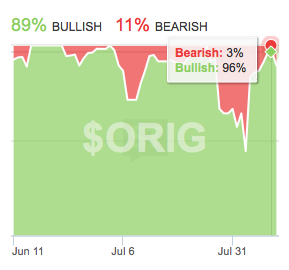 With the Q2 earnings, Ocean Rig laid the hammer to shareholders stating that some debt holders may not get repaid. The news sent the stock down over 50% to around $1. The question is whether this is another ploy by the CEO to buy some shares on the cheap or a valid claim suggesting the stock is virtually worthless. 
Either way, the sentiment indicator is worth watching as clearly the retail investors on StockTwits are off kilter on these risky stocks. 
Disclosure: No position