Baidu: Blast Off!
After the close, Baidu (BIDU) reported the following Q4 results according to Briefing.com:
Reports Q4 (Dec) adj. earnings of $1.18 per share, $0.04 worse than the Capital IQ Consensus of $1.22; rev +33% to $2.89 bln vs. $2.84 bln consensus.

Mobile search monthly active users (MAUs) were 657 million for the month of December 2015, an increase of 21% year-over-year Mobile maps MAUs were 302 million for the month of December 2015, an increase of 43% year-over-year Gross merchandise value[1] (:GMV) totaled RMB14.7 billion ($2.3 billion) for the fourth quarter of 2015, an increase of 397% year-over-year.

Co issues downside guidance for Q1, sees Q1 revs of $2.379-2.465 bln vs. $2.51 bln Capital IQ Consensus Estimate.
Ironically, the stock traded up 10% after hours to $175 as different sites had differing views on whether the Internet search giant in China beat estimates. The big difference appears whether the analysts used the local Chinese currency or translated the results to the US dollar. 
With signs that Baidu is reducing aggressive spending on O2O costs, the stock is definitely a buy with a market cap of roughly $60 billion. At this point, the first goal is to regain the $200 level before heading to new highs over $250. 
<!== INSTRUMENT %% %1440% ==!>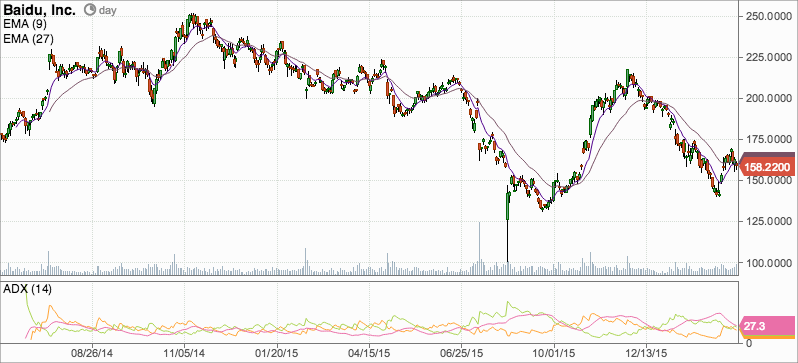 Disclosure: Long BIDU