Weekend Research: Corporate Actions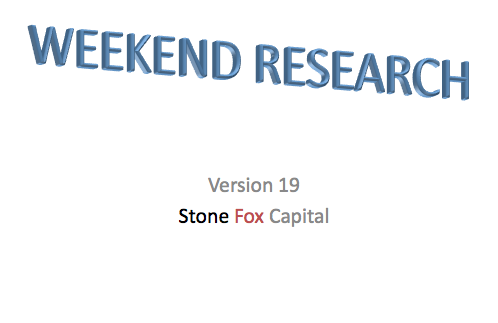 This version of the Weekend Research will focus on a couple of corporate actions that provide opportunity to alert investors.  
Time Warner (TWX) - the merger with AT&T (T) remains somewhat contested as president-elect Trump continues to make statements opposing the vertical merger. Time Warner ended the week at $94.75. AT&T ended the week at $41.32 and right at the top end of the cap where investors will get the $107.50 purchase price. If one thinks the merger eventually gets approved, Time Warner offers a sizable premium in the 13.5% range with plenty of upside if AT&T trades any higher. The deal is half stock and TWX shareholders get 1.3 shares in AT&T for each share owned. The purchase price is protected by nearly $4 downside in AT&T.  
Alexion Pharma (ALXN) - the biotech stock surged on news that the Audit and Finance Committee found no need to restate financials based on allegations relating to sales practices for Soliris. The company did find that pull-in sales represented about 1% of Q415 sales and presumably is what caused the removal of the CEO and CFO. Now investors face a lack of executive leadership against the potential upside of the stock. Leerink has a $211 target on Alexion and RBC is up at $187. Even after the big rally to end the week, the stock only trades for $143 now with a reasonable forward P/E of 26. 
Please signup to follow this blog for daily posts and updates on these stocks and others. 
Disclosure: Long TWX